I have a cold which seems to not want to quit and, after waking up last night with cold sweats and dizziness, decided I need to treat myself. I sold a few things on eBay last week meaning I had a bit of cash to spend (I'm keeping my Christmas present budget separate...) and went checked a few things of my wishlist.
Faux fur jacket, £29.99, H&M
My lovely lovely partner has ordered this for me as an early Christmas present and I'm a bit overexcited at the thought of wearing it. I've wanted a faux fur jacket for ages but never thought I could pull one off, but fuck it, they look good and I'm wearing it. I resisted the temptation to buy a black one and decided I needed something other than black in my wardrobe.
Tiny gold and black stacking rings, £3.99, New Look
Another present, this time from my mom. For whatever reason my mom randomly bought me these and I love them! They look so cute with a couple on each hand and I'll be wearing the black stone ring everyday! The twist and rope style rings are tiny and I really doubted whether they were going to fit on my fingers but they fit perfectly and look simple and chic. I needed some more toned down jewellery for my collection and I only really own statement rings so these are perfect!
Homies t shirt, £9.00, eBay
I love this T shirt!!! Obviously I need more black T shirts in my life ;) Ever since I saw Miley and co wearing their Homies sweaters all that time ago I've wanted one, and now I've joined the club. Simple and I can pair it with print leggings, which brings me on to my other purchase this week...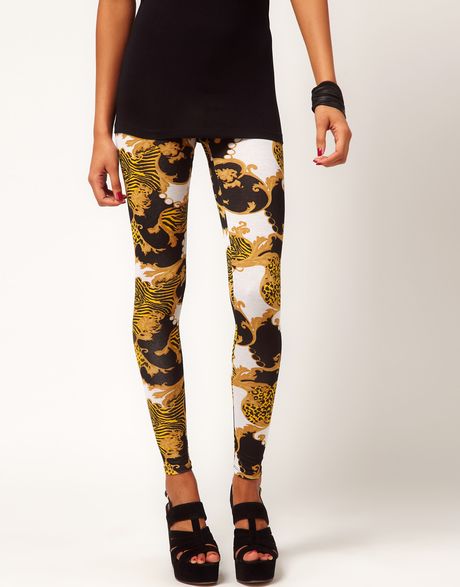 Versace inspired chain print leggings, £9.99, ASOS
Something else I've wanted for ages but didn't feel like I could pull off, print leggings! I hope they fit well since leggings always seem to fit strangely on me, probably since I'm 5ft with muscle-y looking legs. Will probably wear with my creepers.
I'll post some photos of these outfits soon! Follow my lookbook (vulpecula), I only have 1 look posted currently but I'll be posting some more over the new few weeks :)